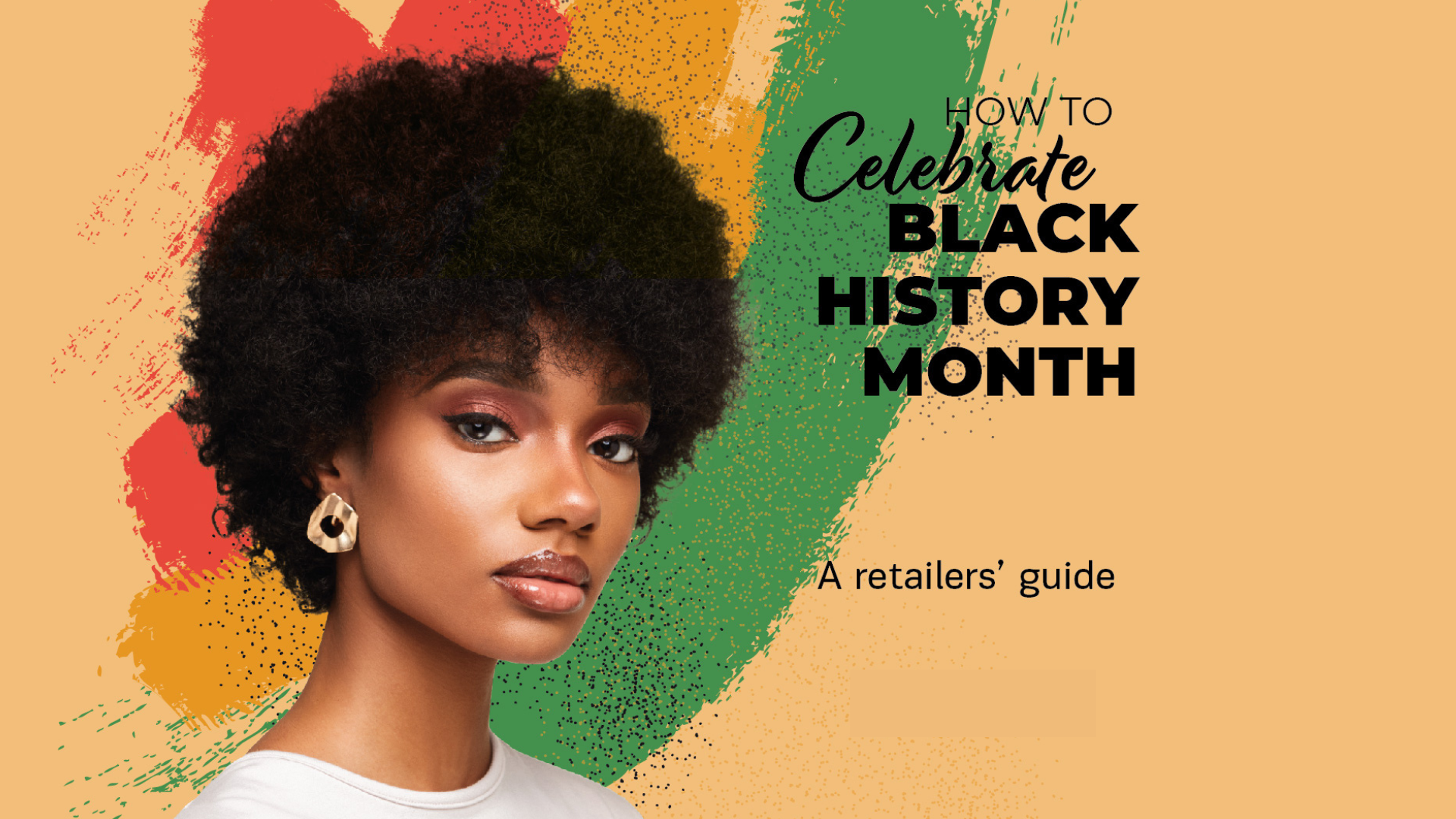 7 Ways to Celebrate Black History Month: A Retailers' Guide
This year's theme is 'Time for Change: Action Not Words'. Here's how you can mark the occasion with a purposeful message.
Since 2020, the emphasis on running a meaningful Black History Month campaign has been greater than ever. This is an excellent opportunity to recognise and celebrate black voices and educate consumers with a discussion of black history, while also being a chance to sensitively market your business and display inclusiveness.
However, it is important to note the word 'sensitively' when marketing during Black History Month. Despite the amount of resources freely available online, which provide brands and retailers with a good indication of what diverse consumer bases wish to see from their business during this time, there are still many instances of poor marketing choices.
For example, earlier this year in February during the US' Black History Month, TikTok held a virtual meet and greet with Nikki Minaj to kick off the celebrations; however, the app was accused of prioritising the voices of non-black creators during the event. Meanwhile, retail giant Bath & Body Works released a Black History Month collection of candles, lotions and fragrance mists packaged in kente cloth print, but some consumers commented on how the brand missed the opportunity to collaborate with black creators and small black businesses instead.
Having read these examples, some might believe that Black History Month is a marketing minefield. It's true that promoting your business during this time can be a challenge, however, with the right considerations, you can run a successful campaign to educate and intrigue your customers this October, without seeming exploitative or performative.
Here are some ideas to inspire your Black History Month campaign this October.
1. Create a window display
Many retailers use their shop windows to display creative material during Black History Month.
How about using wigs and mannequin heads to recreate the hairstyles of iconic black women in history? You might also want to decorate with cut-out lettering, flags and even special-made bunting. Feeling creative? You could design a poster with some bright graphics celebrating black hair throughout the years. Don't worry if you're not a design whizz, though; there are many online retailers offering large posters that are perfect for displays.
A window display relays an impactful message to customers and passers by that your business is supporting this special month.
2. Advocate for change While Black History Month may highlight the inequality that the black community has faced in the past, it is also key to call attention to the issues that exist in our present society, as well as the organisations that are committed to improving equality.
When advocating for change, you could donate a percentage of profits of a particular product, a collection, or your entire profits for the month to a meaningful cause that is close to your heart. There are many nation-wide charities that are dedicated to anti-discrimination, including Stop Hate UK and UK Black Pride, or you could go the local route and choose to support a community project in your area, such as a women's shelter who may be requesting hair and beauty product donations.
3. Switch up your shop radio
If you have a music licence from PPL PRS, this is a great time to switch your station to one with a more diverse set of DJs. There are many small, black-owned stations to choose from, including No Signal, NTS Radio, Colourful Radio and The Beat London. If you prefer to play chart tunes and popular music, Capital XTRA (formerly black-owned station Choice FM) is a more mainstream option. It's likely that these radio stations will be running segments dedicated to Black History Month during October, so your customers can listen and learn!
4. Celebrate lesser known black historical figures
There are several names that pop up time after time during Black History Month, and while it is important to remember the key figures in history, this could also be an opportunity to shed light on those lesser known individuals who made a difference.
For example, do your customers know about Ignatius Sancho, who lived in the 18th century and was the first African prose writer to have his work published in Britain? What about Mary Seacole, who funded her own way to Crimea to become a heroic war nurse after the War Office declined her application?
This is a chance for you, your team, and your followers and customers to become more educated about black history in Britain.
5. Encourage engagement
Want to start more conversations with your customers? Why not issue badges that your staff can wear in order to encourage customers to ask about their haircare issues or hairstyles for afro and curly hair? You and your workforce could take a little time to refresh your knowledge, which can be imparted in a dialogue with the customer. This also presents an excellent opportunity to point customers towards new products and promotions, as well as other resources that you recommend regarding Black History Month.
6. Plan in advance
Remember that Black History Month is a sensitive time for many, and followers may be watching businesses closely during this period. With this in mind, it's important that you plan any campaigns well ahead of October, leaving time to check facts and correct errors to avoid a blunder.
Planning ahead may also allow you to get more creative with your campaign, consult the right people to make it interesting and appropriate for your customers, and ensure that all aspects run smoothly and as planned.
7. Extend your commitment beyond October
Much of the critique that surrounds brand marketing during Black History Month is its sometimes performative nature, i.e. businesses making commitments to the black community, but seemingly ceasing support during the rest of the year.
To avoid being disingenuous, you could showcase the work that you do throughout the year to support important causes, improve inclusivity and diversity in your workforce, and raise awareness of inequalities in your industry and what you're doing to combat them.
As a retailer, there are many ways in which you could celebrate this month and support the black community throughout the year. We hope that these tips help you succeed in your Black History Month campaign!